Noel Kelly Carpentry
- For Demolitions
Professional Demolitions
Noel Kelly Carpentry can expertly carry out all types of demolitions. If you need any part of a building removed prior to any new build, or just to make better use of your property – its time to call Noel Kelly Carpentry. Noel is an expert in building and demolitions and can advise you prior to any work being carried out. All demolitions work require a professional to ensure that no part of the buildings structural integrity is compromised. Noel is happy to give you his professional opinion so that you can be sure that the job is safe prior to commencing.
From domestic to industrial, all demolitions work carried out by Noel Kelly Carpentry are done to the highest possible standards and for the best prices – no exceptions.
Noel Kelly Carpentry – it's not right, unless its perfect.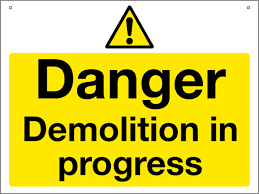 Noel Kelly Carpentry
– For Demolitions
Noel Kelly Carpentry are perfectionists in all aspects of demolitions and are fully insured for everything they do. His team are highly experienced and complete all our jobs safely – to the best possible standards, on time, every time. Noels team always give their best and work under the strictest safety and professional standards.
Noel Kelly Carpentry completes jobs to perfection and would never be happy with anything less.
We are happy to complete jobs for the domestic, commercial and industrial sectors and always do so at unbeatable prices.